Joyeux Anniversaire, Cannes!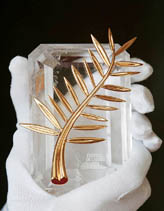 On this day, in 1946, the first
Cannes Film Festival
opened.
Back then they didn't have color, or black and white even. No, back then they had to enact the script on a large stage with a silver screen backdrop (hence the expression, "stars of the silver screen"). This is one reason many of the small-scale, post-war "Italian Realist" films were received so well at the early Cannes Festivals - much easier to put on. During the staging of the big-budget American movies, something inevitably went wrong (witness the death of 8 flying monkeys by fire during a special Cannes presentation of "Wizard Of Oz" (1939, two weeks before Hitler invaded Poland), which detracted from the production value. In that first year of the Cannes Film Festival, the top prize was shared among 11 films - which is surprising since only 7 films were entered. And back then they weren't presented with today's well-coveted "Pomme d'Or", but with an award called the "Grande Prik".
FUN FACT: Ingrid Bergman and Ingmar Bergman are not brother and sister! They are parent and child!

After 1950, things changed. What with the new technologies, movies were at last able to be made in both back and white and could be watched without having real-live actors get near anyone. Throughout the 1950's, Doris Day films inevitably won every award the Festival had to offer. That all changed with Doris Day's mysterious suicide by a lone gunman in 1962.
In 1990, the Pawm d'Orr was given to the David Lynch film "Wild At Heart" (1990). Meanwhile, that year's Academy Award for Best Picture went to "Driving Miss Daisy" (1990). These were known as "The Dark Times" (A.D. 1990).
FUN FACT: Billy Crystal has never hosted the Cannes Film Festival! But never say never!

It is rumored - and also rumoured - that next year's Cannes Film Festival, now traditionally held in the spring because of those fascist bastards over in Venice, will feature a retrospective of the films of the late Michelangelo Antoniononinoi in new, digitally-restored 3D versions!