"After Hell" & The Paradise of Audio Drama
Having just launched the horror site,
"All The Hells"
, how I could I not listen to an audio drama called
"After Hell"
?
"After Hell" a supernatural drama, a mix of police procedural and "28 Days Later"-style Armageddon story. It's enthusiastically presented and - the key to any good audio drama - uses an intelligent sound design to create spaces, describe scenes, illustrate scenes in detail.
I was sent one of the new CD copies from
SciFind Ltd.
, UK based aggregator of all things scientifically fictional. I was sold on the concept, sight unseen - or sound unheard.
I love audio drama - as anyone who has heard my delightfully self-indulgent (yes, delightfully!)
"Wretched Goo Of The Imagination" podcasts
will tell you. One of my first forays into media production was the recording of a thrilling audio space adventure with my older brother. It was entitled "Face To Face With The Planet Scanodon!" and recorded in the living room of our Ohio apartment on glorious reel-to-reel tape. I wonder if
my parents still have that tape in storage somewhere.
And I have not grown up - have not "changed my principles", let's say - that sounds better - one iota since then. Here is the planet Scanodon at
The Cyclopedia Of Worlds
: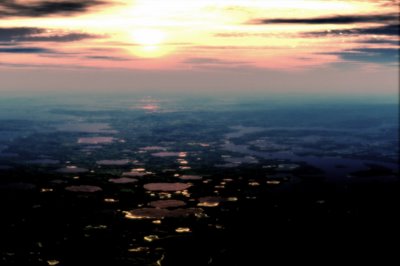 The quality of writing and production design may have improved since I was seven years old, but the subject matter...remarkably the same.
Writer-director Joe Medina at Ollin Productions has put together something he should be proud of with "After Hell". I think Orson Welles would agree with me, if he were animated and rotting next to me in some kind of horrific horror story way, that audio drama - radio drama, we used to call it - is it's own, self-contained media form. Audio drama, like music, engages the mind and imagination directly - and can - in partnership with our brains - describe atmospheres, textures, spaces, and all manner of impossible absurdities (see again,
The Wretched Goo Of The Imagination
) with ease. I love it. And will do more of it myself some day, when I finish these several dozen other projects.
Well done, to Ollin Productions and the entire "After Hell" crew. Keep up the good work. We want more. We need more.
Labels: audio drama, Cyclopedia Of Worlds, horror, media production, sci-fi