Wednesday, June 27, 2007
Falun Dafa vs. Chinese Embassy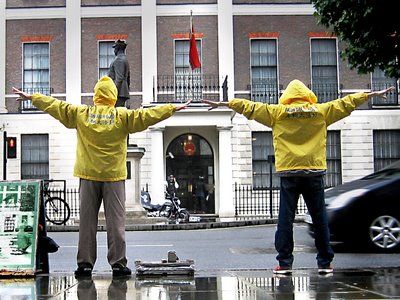 "Falun Dafa" demonstrators this week across the street from the Chinese Embassy, London, UK.
Labels: pictures
4 Comments:
Great Photo.
Good to see those Falun Dafa practitioners standing up for human rights.
- By

Jason, at Wed Jun 27, 05:17:00 PM GMT+1


Out in the rain as well.
- By

Neal Romanek, at Fri Jun 29, 11:26:00 AM GMT+1


Perhaps they are just confused, waterlogged, Chinese Rutles fans!
http://www.rutles.org/rpix/ouch.jpg
- By

Anonymous, at Sun Jul 01, 05:39:00 PM GMT+1


Yes, indeed OUCH!
- By

Neal Romanek, at Mon Jul 02, 10:47:00 AM GMT+1